An interview of Traci Alford, President & CEO of Effie Worldwide
The Effie Awards celebrated their 50th anniversary this year. Traci Alford tells us about the evolution of these Awards and the latest innovations of her organization, as well as the '5 for 50' Awards.  She also answers our questions about the levers of efficiency.
Click here to read the interview in French
CB Expert : In celebration to Effie's 50th Anniversary, could you explain the idea behind the '5 for 50' awards?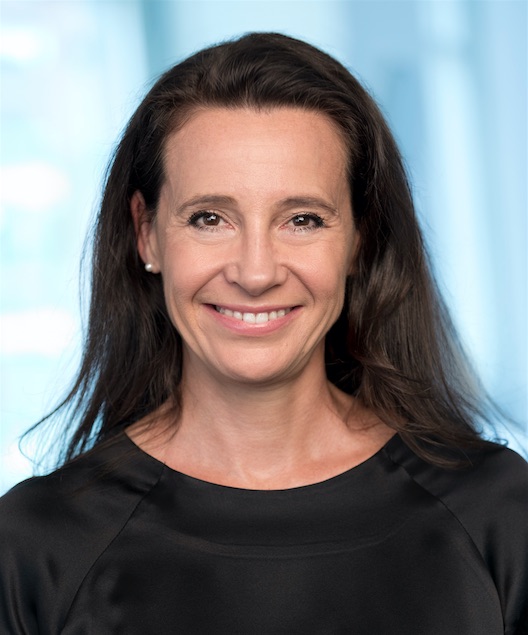 Traci Alford : To mark the occasion of Effie's 50th anniversary, we wanted to celebrate the most effective marketing over the past half century and, given our remit of effectiveness, we wanted to celebrate and honor the most enduringly effective brands that stayed relevant through the years and continue to adapt most quickly to the future.
Having the talent to build a strong and sustainable brand is very hard. And staying relevant while culture is changing, technology is transforming daily, and our businesses and customer journeys are rapidly evolving is rare.
The winners were determined based on two rounds of rigorous judging by global juries comprised of senior marketing leadership, across brands, agencies and media.
All entrants submitted their own archived footage, accompanied by their written case studies.
CB Expert : Which were the 5 winners of the  »5 for 50 » Awards and why are they the best cases of the last 50 years?
Traci Alford : After two rigorous rounds of judging and debate, the five recipients of the 5 for 50 Award were Apple, Dove, IBM, Mastercard and Nike.
To be eligible for this recognition, a brand must have won more than one Effie Award over more than one year from any of our 55 programs around the world and demonstrated enduring effectiveness, adaptability and reinvention of the brand over time.
We received extremely impressive submissions from around the world that, following the first round of judging, were narrowed to a shortlist of 11 brands, including L'Oréal Paris.
What ultimately set the five winners apart is their undeniable effectiveness across Effie's Four Pillars (Challenge, Context & Objectives; Insights & Strategic Idea; Bringing the Idea to Life; and the Results). The 5 for 50 winners showed the most resilience and versatility over time. They had clear objectives, deep insights and executed against their strategic ideas with brilliant creativity. Their efforts resulted in the growth and evolution of their businesses, while providing valuable lessons on marketing effectiveness. The iconic marketing from Apple, Dove, IBM, Mastercard and Nike all hold significant creative and cultural potency and continue to serve as inspiration for our industry.
The 5 Winners of the '5 for 50' Awards :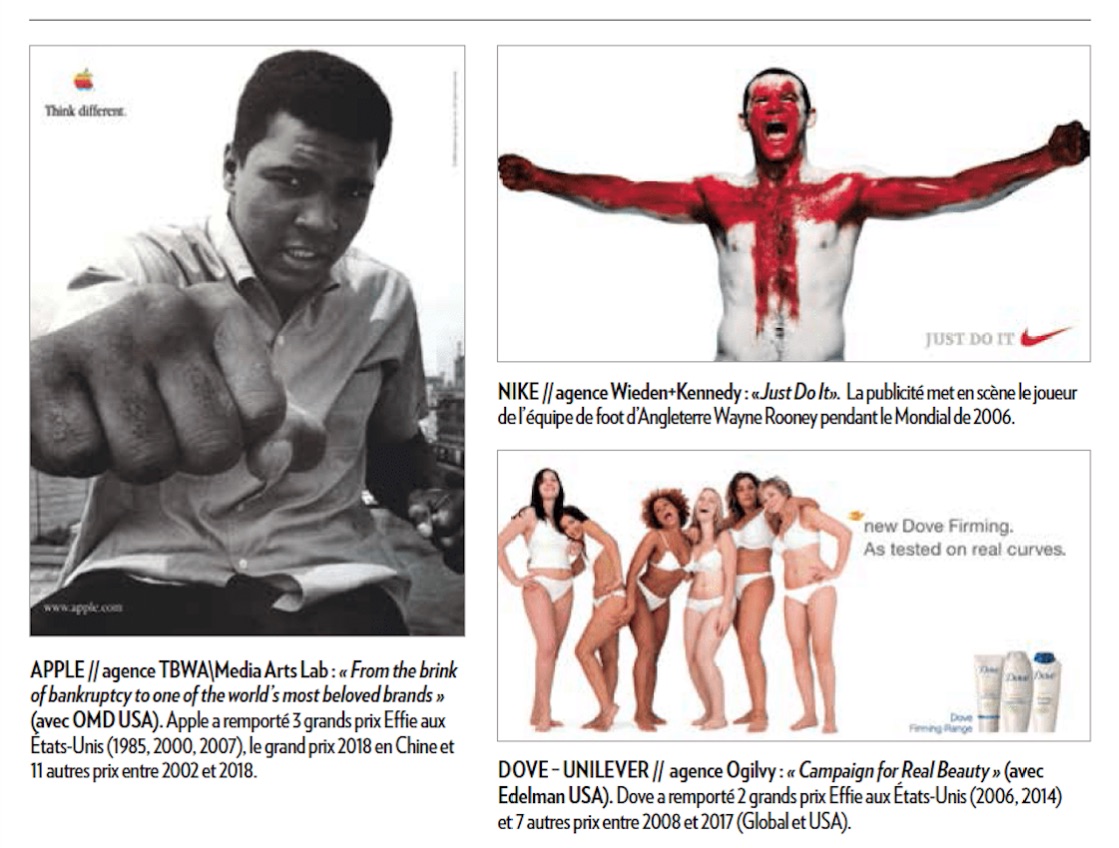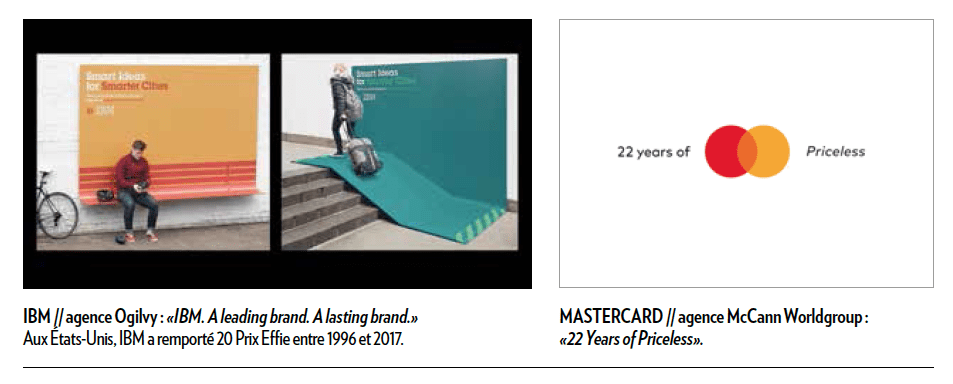 CB Expert : Through all Effie winners around the world, what observations do you make about the effectiveness drivers ?
Traci Alford : We recently partnered with former marketing professor, writer and marketing thought leader, Mark Ritson, on an analysis of our global Effie data. While we are still reviewing an enormous amount of data, in terms of what separates the most-effective advertising from the rest, a number of key factors are already rising to the top—culminating in bravery.
Our analysis shows that campaigns that only take mild risks and test boundaries with greater caution do considerably less-well than those aggressively pushing the envelope. The biggest takeaway is that if you want to stand out with consumers today, you need to go big and be very brave.
CB Expert : Is the concept of communication effectiveness universal or do you observe differences across the continents or countries?
Traci Alford : While the means by which communications effectiveness is achieved varies across category segment and around the world, effectiveness is a universal outcome, particularly at the strategic level. Where the definition of effectiveness becomes localized is in the execution, but the fundamental framework (Effie's four pillars) applies across continents, cultures and languages.
CB Expert : What are the latest initiatives or innovations of the Effie Awards around the world?
Traci Alford : What started as an advertising effectiveness award over 50 years ago has grown into the global authority on marketing effectiveness, with 55 programs around the world and a remit that expands well beyond awards – offering resources, education and thought leadership for marketers at every stage of their careers.
Our mission is to lead, inspire and champion the practice and practitioners of marketing effectiveness. The Effie network is part of a global community to which we are committed to recognizing and educating about effective marketing that builds businesses and drives our industry forward.
We are always innovating the Effie Awards and expanding to bring in new audiences like technology platforms, direct-to-consumer brands and management consultancies.
We have also spent the past two years innovating our educational offerings and thought leadership platforms to help educate and inspire future talent, while providing our network with more opportunities to showcase and celebrate their most effective work on a global stage.
Effie offers programs at the university level like Effie Collegiate, as well as our newest initiative, the Effie Academy Bootcamp, which is an exclusive educational program for professionals early in their marketing careers and developed based on our global knowledge. Our next Bootcamps will be held in Beijing in January and New York in February 2020. We look forward to bringing this program to Europe very soon.
We track and analyze the most effective marketers, brands, agencies and holding groups globally with the Effie Index, own a global database with thousands of best-in-class case studies and serve as a forum for the marketing community.
A very important member of our global community is Effie France, organized by both AACC and UDA, who is celebrating its 26th anniversary this year. Effie France has done great work to bring together clients, agencies and media across the country recognize the most effective marketing efforts each year. I encourage everyone to visit effie.fr and effie.org to learn more about how you can get involved with the program.
Interview by Emmanuel Charonnat
---
Lire aussi :
. tous nos articles sur les Prix Effie
. Effie 2019 : interview de Marie-Pierre Bordet (AACC) et Didier Beauclair (Union des marques) (novembre 2019)
. Pour leurs 25 ans, les Prix Effie se veulent encore plus efficaces (novembre 2018)
---
Accès au site Monde des Prix Effie
Accès au site France des Prix Effie
Tags:

AACC, Apple, Dove, Efficacité, Effie, Effie2019, EffieWorldwide, IBM, Interview, Mastercard, Nike, Publicité, Unilever, UniondesMarques